Student Support Services
College of Arts and Science – Academic Support Services
The College of Arts and Sciences is focused on the success of every student. These student resources help students make the most of their opportunities. We want to see our students succeed in every aspect of life, personally and professionally. Through our student support services, students can find the individualized help they need to open their minds to a diverse education and valuable real-world experiences.
Valparaiso University Writing Center
---
Access and Accommodations Resource Center
Christopher Center Library Services
---
Competitive Scholarships and Fellowships
Academic and Vocational Exploration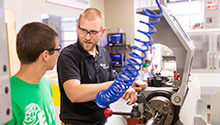 Assistance for Special Circumstances
---
College of Arts and Science – Academic Support Services
Interested in applying to our College of Arts and Sciences? Find the academic support services you need to achieve success at Valpo College. It's time to pursue your interests in a four-year degree program that is designed to create lifelong learners. Sign up today or request more information about our Indiana college.